I keep forgetting to blog about the trip Deborah and I made to Baltimore a few weeks ago to visit the American Craft Council show. Deborah has written two posts worth checking out here and here. In fact, she pretty much said everything in the first post that I wanted to say here. So, I'll focus more on my personal take-aways (and then show lots of work I like anyways — some of which is the same as Deborah chose).

We gathered lots of business cards to help remember all the work we saw.
Overall, I was impressed with the consistency and quality of the work. I'm sure this is because one must be juried in to participate. I found myself, over and over, thinking "I am not worthy," about my own work. I particularly enjoyed the booths where the artist had taken care to integrate a whole experience between the wares and their presentation. Speaking of wares, I overheard one person comment, somewhat disparagingly, that it was basically shopping. Yes, it was. This is no conceptual gallery show or museum setting. But, as artists and craftspeople, selling work is an effective way of sharing it with an audience as well as paying the bills, so I'm OK with that. That said, I came away from the show pretty sure that I do not want to do the craft fair circuit myself. It's not that I think myself above that, it's because I know it would mean drastically re-evaluating and changing my work to something more marketable, and I'm just not there right now or in the immediate future.
I really enjoyed the variety of work at the show. Like Deborah, I loved the wooden Jewelry of Gustav Reyes. It is a masterful blending of the technical with the organic, and we enjoyed learning about his technique. I would love to own one of his coil bracelets:

The jewelry ran the gamut from wooden, to felt, to ceramic, to assemblage, to precious metal, to stone (lots of stone!), to textile. I found myself attracted to a lot of the "creepy-cool" things, like Kest Schwartzman's masks:

Brandon Holschuh had a wonderful booth filled with his organic metal and stone jewelry, each with their own little display stand so they were not only sculpture for the body, but sculptures in and of themselves as well. He was enthusiastic to talk to and his booth styling was classy and appropriate as well.

I saw lots of shibori, mostly amongst the clothing — but very little was traditional Japanese style, there was lots of variety and subtlety. While I admired the dyed fabrics, I ended up buying a patchwork dress from San Francisco designer, Anya. Mine is green and orange, of course.

If I had unlimited funds, I would have loved a repurposed cashmere dress from eko logic too (the style that enchanted me is unfortunately not on the website).
It wasn't all about the wearables though. Glass and ceramic were prevalent. Bryan Hopkins was one of my favorites — mainly because of his clever tagline, "Functional and Dysfunctional Porcelain." However, not all work was so contemporary looking. My mom would have liked the craftsman inspired ceramics and furniture like the vases of Jonathan White. There were some spikey ones that appealed to me with their slight dangerousness.

Michael Bauermeister's sculptural vessels had a warm presence despite their large scale. I'd love to have the space and the funds for one of his pieces.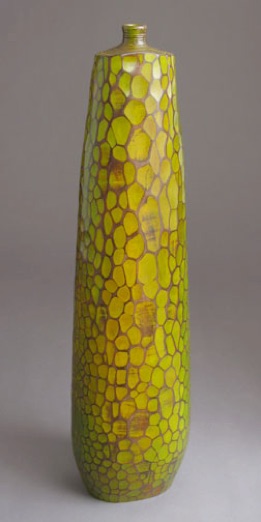 We saw some enormous metal pieces too that would be great for an outdoor installation, but would never work for nomads like Deborah and I.
She mentioned in her second post that while the quilts and textiles at the show were high quality, and definitely beautiful, they just weren't the things she gravitated to. I have to agree, and think she may be onto something with the idea of familiarity. However, I enjoyed Liz Alpert Fay's rugs — some looked decidedly vintage quilt-like.

There were also a few floorcloths in Faith Wilson's booth that definitely spoke to me. Something about "here" resonated.

There is something about practical things that we can use in our environments and on our bodies, that when made beautiful and intriguing as well as functional, which draws me in. I had a wonderful time at the Baltimore Convention Center soaking in all the fine craft and art. The experience was made all the better being there with a friend with whom I could share the wonder and appreciation and well as the questionable and humorous moments.
If you haven't already, go check out Deborah's posts. And, for another perspective, Lotta reported too.