I feel like my blogging has been all messed up lately. I had two things to post when my blog was down for a day and a half and when it came back up they were there, but I think it took longer than usual for RSS feeds and stuff to find them. Then I joined FaceBook. Now I'm over there as much as here and I forget what I've said in which place. I have to admit that a quick little blurb over there is so easy, though I feel like posts over here have a little more presence. On top of that I am totally caught up in Mr. Incredible's IBOL project. Not that I'm actually doing anything, I'm just constantly bouncing between my email, the IBOL blog and the IBOL FaceBook page to see how amazingly the project has grown.
When he first told me of the project I never imagined that so many people would come out to support it. My post alone has over 60 comments and I never get even close to that kind of traffic on this blog. His number of hits and comments is understandably astronomical! It's so much fun to see other people blogging about it too. Blogs that get lots of traffic and those that get little bits — it's all added up to an amazing amount of support. Then Sew Mama Sew jumped in with bundles for people without a fabric stash to draw from and that ended up being perfect for people outside the US too (since postage can add up), plus I think a lot of sewers who just plain like SMS ordered additional bundles because they could. They sold out in an amazing 48 hours. Now Quilts, Inc. is on the bandwagon, Mr. Incredible's got a press guy, he's done a radio interview and there's more in the works. Don't forget the fun little side projects that spring up spontaneously like Nadine's T-Shirts based on my SIL's heart-for-an-O labeling of her box, and Happy Zombie's adorable blog button which is way more lovie than my persian rug one. How can I possibly blog in the shadow of all this awesomeness?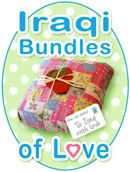 So thank you thank you thank you for all your bundle love and support! Sooner or later I'll get back to the art bras, Hawaiian music on the lawn, quilty things, Guild happenings, and  possible projects. But right now, it all seems beside the point.